:::: ((OW-AO)) ::::

OPEN WORKSHOPS-ATELIERS OUVERTS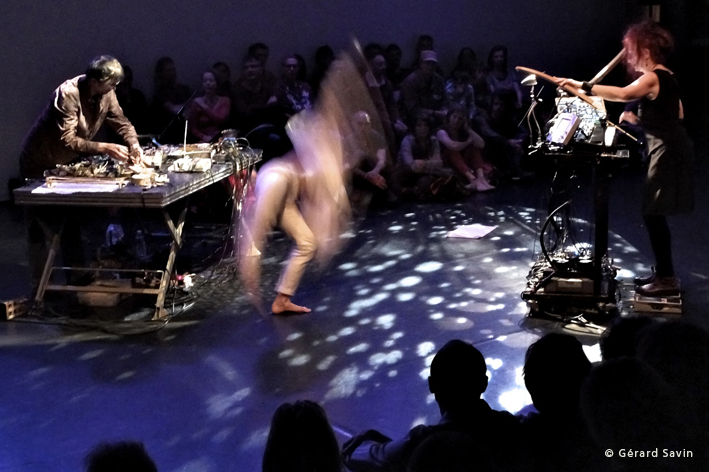 To reach the photo gallery, click on photo
This event is a concept proposed for the first time in 2009, at the initiative of Patricia Dallio and carried by cie sound track.

Since 2013, every two years, an edition is organized with three partners that cross their artists networks. cie sound track and Césaré national center of music creation became holders of each edition, and a third place receives us for 8 days because ((OW-AO)) needs to be deployed over time.

As all the proposals of the company, ((OW-AO)) plays on the diversity of expressions of transversalities shared around and with music.


The principle
cie sound track occupies a place in which to offer workshops of research and creation.

Guest artists do not know or have never worked together (composers, visual artists, dancers, programmers, actors, writers ...).

They gathered together a trio to react to predictions of world news with as theme generative piece of Antoine Schmitt 'Time Slip'. A text unfolds endlessly relaying the news in real time (source AFP), but combined with the future. This piece serves as an inspiration, support and link to all workshops.

Without prior rehearsals are proposed performances that succeed one another in an exchange approach of joint research and improvisations.

The public attends every evening at a multidisciplinary and ephemeral work, anchored in world news, which gives rise to discussions and exchanges with the artists.


The work of Antoine Schmitt 'Time Slip'

'Time Slip' is a plastic work related to a philosophical questioning about destiny, his prior writing or its causal determinism and ultimately work on free will in a world where time and its causality can vacillate. It returns the viewer to control his own destiny. It is also a reflection on the driving force of unpredictability and risk, more and more central in the contemporary world.
((OW-AO))#3
from 18 to 25 May 2015 | CCAM Vandoeuvre-lès-Nancy, in the 31th edition of 'Music Action'
25 invited artists :
Philippe Le Goff sound artist | Manuela Agnesini actress/performer
Alessandro Bernardeschi choreographic artist | Jason Van Gulick percussionnist
Antoine Schmitt visual programmer | Floy Krouchi bass, pedals and electronics
Philippe Foch percussions, stones, electronic | Christophe Ruetsch live electronic
Fabien Joubert actor | Stéphane Buellet digital artist | Aude Romary cello
Daniel Koskowitz machinery and percussion | Christophe Bergon light designer, set designer, videographer
Pascal Battus guitar pickups| Didier Petit cello | Frédéric Le Junter uncertain sound objects and micro mouth, basically filtering
Patricia Dallio electronic instruments | Aurore Gruel dance | Julie Rousse improviser, sound artist
Yuko Oshima percussionnist | Kurt d'Haeseleer video performer
Mathieu Chamagne electroacoustic device | Bart Maris musician, trumpeter, improviser
Catherine Redelsperger writer | Anne-Laure Lemaire actress
Programm and links to artists web site
Production : cie sound track
Co-production : Césaré – Centre national de création musicale de Reims, CCAM – Scène nationale de Vandoeuvre
Partner : Futurs Composés
* Photos credits : Charlène Marchand, Marie-Françoise Dandoy, Thierry Laroche, Gérard Savin.
((OW-AO))#2
from 29 April to 6 May 2013 | Césaré - national center of music creation in Reims
Composers/musicians :
Carol Robinson clarinet and electronic | Dominique Répécaud prepared electric guitar
Hervé Birolini electronic | Philippe Le Goff sound research | Diego Imbert contrebass
Françis Faber karlax | Géraldine Keller voice | Uriel Barthélémi drums and computer
Vivien Trelcat guitar and computer
Les étudiants de la classe électro du Conservatoire de musique de Reims electronic
Sandrine Gironde vocal improvisation | Thierry Balasse electro, synthesizer and feedback glove
Gilles Laval electric guitar | Patricia Dallio sensors, keyboard and electronic
Hélène Breschand harp and electronic processing

Visual stakeholders :
Antoine Schmitt visual programmer | Sophiatou Kossoko choreographic artist
Marinette Dozeville dancer and choreographer | Mathieu Sanchez video multimedia performance
Les étudiants de l'ESAD graphism | Stéphane Bordonaro videographer
Sophie Daull actress | Jacques Perconte fine art artist

Production: cie sound track
Artistic director: Patricia Dallio
Production manager : Catherine Mortier

In partnership with Césaré - Centre national de création musicale à Reims
Supports : Le Ministère de la Culture et de la Communication - DRAC Champagne-Ardenne, la Région Champagne-Ardenne
((OW-AO))#1
from 18 to 28 March 2009 | Le Nouveau Relax - Scène conventionnée de Chaumont
Patricia Dallio keyboard and sensors | Hasse Poulsen guitars
Arnaud Laumont computer, texts and voice | Jérôme Soudan "Mimetic" computer, electronic percussions