:::: LE MYSTÈRE DES ORÉADES ::::


A performance of music, video, and object manipulation
A digital and archaic ode to cinema
Performance agenda
A film on stage in a factory original process primitive and increased
From the central themes of loneliness and exclusion, Patricia Dallio and Mathieu Sanchez offer us in the form of a live-concert film their visions of the absurdity of the world through a series of abstract work, inspired by the cult film scenes from the last century to today.
In this visual and audible immersive device front, we are talking more than ever of transversality and complementarity.
The viewer sometimes follow the projected video; sometimes the manufacturing secrets: the disparate objects manipulations captured by the camera in real time, enriched with digital graphics and sound composition in the making ...
The Oreads, the nymphs of the mountains distill their digital cinema singing in this miniature.
Works of cinematic references resonate with intensity and distort mysteriously.
Indeed, the trajectories of the two interpreters-creators are marked by constant impregnation in the seventh art. It is common source of inspiration and reference for this new creation, especially mythical scenes which marked their lives and fuel their imagination as much as they could impregnate a generation of spectators moviegoers for generations years.
The cine-concert-video is an ideal tool to educate people to an active image and to the senses.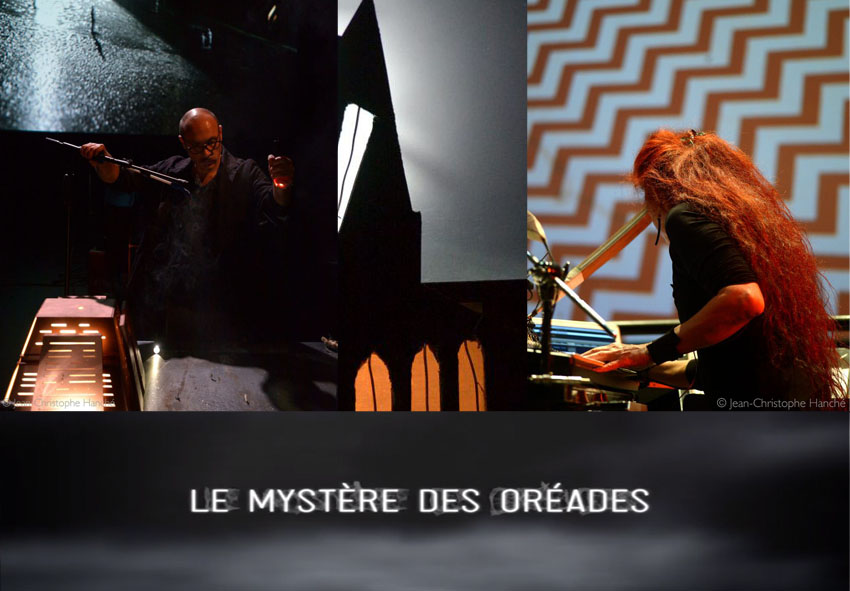 Available Documents
Artistic Team
Design, music creation and performance: Patricia Dallio
Design, visual accomplishments and performance: Mathieu Sanchez
Outsider: Sandrine Gironde
Sound: Xavier Bordelais
Programming Development: Carl Faia
Lighting design: Thierry Robert
Set design and light control: David Gallaire
Choreographic accompaniment: Sandrine Bonnet
Support and Technical Support: Olivier Charlet
Production Manager: Catherine Mortier
Sales contact :
Colette Poullain diffusion@ciesoundtrack.com

Credits & Supports
Production: cie sound strack
Supports: La DRAC - le Conseil Régional de Champagne-Ardenne, Conseil Régional de Champagne-Ardenne, Conseil Dépatemental de Haute-Marne, Ville de Chaumont, Spédidam, Sacem
Partners: Sponsored show by Le Nouveau Relax - Scène conventionnée de Chaumont et Le Théâtre - Scéne conventionnée d'Auxerre dans le cadre du Quint'Est
Coproductions show co-produced by Le Nouveau Relax - Scène conventionnée de Chaumont | Le Centre Culturel Saint-Exupéry de Reims | Le centre National de Création Musicale - Césaré de Reims | La Comète - Scène Nationale de Châlons-en-Champagne | le CCAM - Scène Nationale de Vandoeuvre-lès-Nancy
Allready seen the

Tuesday, 23 and Wednesday, May 24th, 2017 |

André Malraux cultural center, national stage of Vandœuvre-lès-Nancy


Friday, November 25th, 2016 |

L'Archipel, the national stage of Perpignan - Aujourd'hui Musique festival


Friday, October 21st, 2016 |

Auditorium of the Cité de la Musique de la danse of Strasbourg, within the framework of Quintessence 2016


6 November 2015 | Le Lux - National Theatre of Valence, Rhône-Alpes
3 November 2015 | End of Salives'residency at he Abreuvoir - (Côte d'Or)
8 and 9 January 2015 | La Comète - National Theatre of Châlons-en-Champagne
20 January 2015 | Le Théâtre - Public Playhouse of Auxerre, Burgundy
10 an 11 December 2014 | first performances at the Nouveau Relax - Public Playhouse of Chaumont, Champagne-Ardenne
* Photo credits: Mathieu Sanchez, Thierry Robert, Jean-Christophe Hanché